Select featured products for the latest cutting-edge applications...
Central's product design and development team constantly monitors industry trends and anticipates customers' requirements by developing more efficient and lower profile devices for ever-smaller and more sophisticated electronic devices.
Check back frequently as Central's engineering team regularly updates this listing of recommended products for the latest demanding applications in the industry.
Diodes and Rectifiers
Protection Devices
CFTVS5V0BULC: Tiny but powerful Ultra Low Capacitance Transient Voltage Suppressor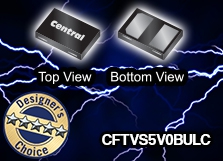 Designer's Choice: The CFTVS5V0BULC is designed to protect sensitive equipment connected to high speed data lines against ESD damage.
Features: Ultra low capacitance (0.2pF), low leakage current, 15kV ESD protection
Applications: High speed data line protection (USB 3.1, Thunderbolt, HDMI 2.0), user interface protection, charging/power port protection
Learn More