Select featured products for the latest cutting-edge applications...
Central's product design and development team constantly monitors industry trends and anticipates customers' requirements by developing more efficient and lower profile devices for ever-smaller and more sophisticated electronic devices.
Check back frequently as Central's engineering team regularly updates this listing of recommended products for the latest demanding applications in the industry.
Diodes and Rectifiers
CMJ Series Current Limiting Diodes (CLDs): 0.13mA - 18mA in SOD-123FL package
Designer's Choice: Central Semiconductor's CMJ series of silicon field effect current regulator diodes is designed for applications requiring a constant current over a wide voltage range. These devices are manufactured in the epoxy molded, low profile SOD-123FL case. Special selections of IP (regulator current) are available for critical applications.
Features: High reliability, special selections available, through hole devices available
Applications: Test equipment, solid state lighting (SSL), security devices, industrial controllers
Learn More
New

Hyperfast Rectifiers - Ideal for extremely fast switching applications SA, 8A, 10A, 600V in multiple package types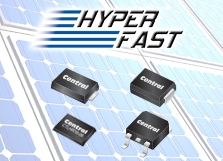 Features: high current capability, high surge capability, HyperFast recovery time (22ns TYP), high revers
Applications: Power Factor Correction (PFC), motor control, DC-DC output rectification, alternative energy inverters
Learn More
Protection Devices
CFTVSV0BULC: Tiny but powerful Ultra Low Capacitance Transient Voltage Suppressor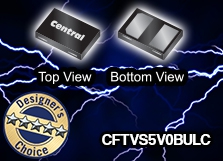 Designer's Choice: The CFTVSV0BULC is designed to protect sensitive equipment connected to high speed data lines against ESD damage.
Features: Ultra low capacitance (0.35pF), low leakage current, 15kV ESD protection
Applications: High speed data line protection (USB 3.1, Thunderbolt, HDMI 2.0), user interface protection, charging/power port protection
Learn More