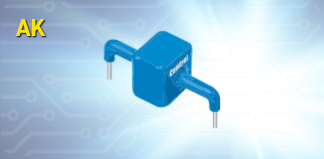 CAK3-012C Series & CAK6-042C Series

Transient Voltage Suppressors ideal for 5G transceivers and other high power applications

---
description
Central Semiconductor's CAK3 & CAK6 series are bi-directional glass passivated junction transient voltage suppressors (TVS) designed to protect voltage sensitive components from high voltage transients.
Manufactured with glass passivated chips to deliver exceptional reliability, these highly energy efficient devices utilize the AK case, with voltage options ranging from 12V to 380V (3kA) and 42V to 240V (6kA). Ideal for high voltage 5G transceiver applications and other high power applications, these transient voltage suppressors also feature a clamping voltage as low as 28V.
Device specifications and curves may be found on the product brief and datasheet.
---
features
Very low clamping voltage (as low as 28V)
Bi-directional TVS
ESD protection of data lines in accordance with IEC 61000-4-2
benefits
Energy efficiency
Glass passivated chip for optimum reliability
Wide voltage range
5G telecom power supplies
high power surge protection