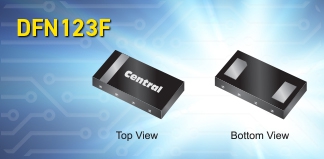 CMJA5050 Adjustable Current Limiting Diode

50V | adjustable current regulation from 50mA to 80mA

---
description
Central Semiconductor's
CMJA5050
is a 50V Current Limiting Diode (CLD) developed to meet design requirements for maintaining a constant current with adjustable current regulation from 50mA to 80mA.
This adjustable device eliminates the need to use multiple CLDs in order to meet the current regulation values required. Packaged in the low profile DFN123F surface mount case, this device is ideal for any application requiring a space saving current regulating device, including LED lighting and test/measurement equipment.
Device specifications and curves may be found on the product brief and datasheet.
---
features
Constant current range
Adjustable regulation up to 80mA
Wide operating voltage
Negative temperature coefficient for LED protection
benefits
Eliminates need for additional regulation
Space savings
Low profile package
RoHS and REACH compliant
LED lighting
AC lighting panels
test & measurement equipment
decorative lighting