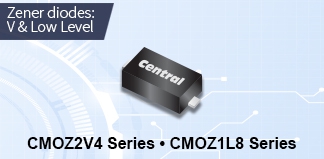 Zener Diodes: CMOZ2V4 Series & CMOZ1L8 Series

Ideal for low leakage and extremely low operating current applications

description
The CMOZ2V4 Series of Zener diodes (2.4 volts through 43 volts) are high quality voltage regulators in the epoxy-molded ULTRAmini SOD-523 package. These devices are designed for applications requiring low leakage. When designers require a device with extremely low operating current, the low level CMOZ1L8 series (1.8 volts through 47 volts) is the ideal choice.
features
Low leakage current
ULTRAmini SOD-523 case
Extremely low operating current (CMOZ1L8 Series)
Note: The below datasheets contain Zener voltages for all devices in the respective series (2.4V-43V for CMOZ2V4 Series, 1.8V - 47V for low level CMOZ1L8 Series).
switch-mode power supplies