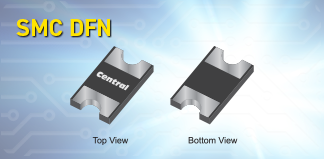 CMDFSHC3-100 & CMDFSHC5-100

Low profile Schottky rectifiers in SMC DFN case

---
description
The CMDFSHC3-100 (3A) and CMDFSHC5-100 (5A) are 100V Schottky rectifiers in the low profile SMC DFN surface mount case, featuring highly desirable energy efficiency, utilizing passivated silicon die to improve performance and reliability.
The space-saving SMC DFN package is 1.25mm in height, 53% lower in height than the comparable SMC, supporting designs requiring low board profiles. Electrical specifications for these highly energy efficient devices include a low forward voltage (VF) as low as 0.78V at 5A. These devices are ideal for reverse polarity protection, boost converters, and general rectification applications.
Device specifications and curves may be found on the product brief and datasheet.
---
features
Low forward voltage drop
High current options (3A and 5A)
DFN style package
benefits
Improved thermal efficiency
Space savings
Low profile package
RoHS and REACH compliant
also available at:
Worldwide:


CMDFSHC3-100 CMDFSHC5-100

EMEA:

boost converter
PFC boost converter
solar cell reverse blocking
high power rectification