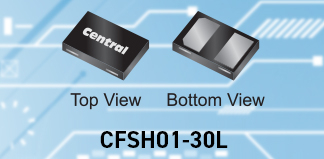 CFSH01-30L Low Profile Schottky Diode

30V, 100mA | ideal for the most demanding space-constrained applications

---
description
The Central Semiconductor CFSH01-30L is a high quality Schottky diode designed for applications where ultra small size and low forward voltage are critical design requirements.
Packaged in the SOD-882L package (0.4mm profile), this component provides performance characteristics optimized for logic level applications where board space is at a premium.
Device specifications and curves may be found on the product brief and datasheet.
---
features
Low forward voltage drop (300mV)
Low leakage current (800nA)
Low profile SOD-882L package (0.4mm)
benefits
Energy efficiency
Space-saving low profile package
---
---
ideal applications:
DC-DC output rectification
charging port protection