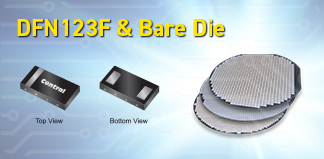 CMJD Series Current Limiting Diodes

Available in low profile DFN123F package and in bare die form

---
description
Central Semiconductor's CMJD series of Current Limiting Diodes was designed to meet designers' requirements for devices to maintain a constant current over a wide voltage range.
Many times, current limiting resistors are required in designs to regulate current and power load circuitry. With Central's new CMJD series, the desired regulated current can be applied directly the load without the need for any passive components. This not only ensures that load circuitry has a safe and regulated current, but it allows engineers to design with an almost ideal current source. Featuring the low profile (1.00mm) DFN123F package, these devices are ideal for applications requiring a space-saving current limiting diode.
Device specifications and curves may be found on the product brief and datasheet.
---
features
Constant current range
Wide operating voltage
High input impedance
Low profile DFN123F package
benefits
Replacement for current limiting resistors
Active current source performance
Energy efficiency
Space-savings
LED lighting
alarm systems
on/off indicators
differential amplifiers