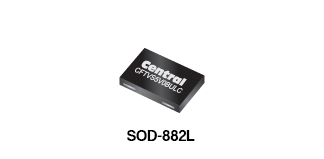 CFTVS5V0BULC: Tiny but powerful circuit protection!

5.0V, Bi-Directional Ultra Low Capacitance Transient Voltage Suppressor in SOD-882L package

description
Central Semiconductor's CFTVS5V0BULC is an ultra low capacitance, low leakage, fast response, bi-directional TVS in the space saving SOD-882L surface mount package. This device is designed to protect sensitive equipment connected to high speed data lines against ESD damage. The low 0.2pF maximum capacitance of the CFTVS5V0BULC is an essential characteristic in preventing signal degradation.
features
Ultra low capacitance
Low leakage current
15kV ESD protection
benefits
Space-saving SOD-882L package
Data line signal integrity maintained at high speeds
---
---
Immediate delivery through distribution:
---
Applications:
data line protection
user interface protection
charging port protection